Meal Applications
English Application 21-22.pdf
Spanish Application 21-22.pdf
Eligibility Guidelines
Turn in Applications to:
Turn into office
Meal Applications
For The National School Lunch Program
All students MUST reapply yearly.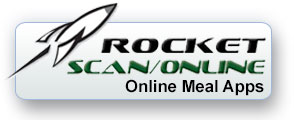 Apply online any time here, just click the RocketScan button above!
For the most rapid processing of your Free & Reduced meal application, please apply online at RocketScan... or you may print and complete the application posted below and mail in to our office if you have not already received notification of your student's status; Direct Certification notification letters are mailed to your home during the summer months.
Free and Reduced Price Meals are available to families who believe they may qualify. The forms may also be obtained and returned (completed) to any school cafeteria or office. You will be notified by mail of your child's status. Until notification you must provide your child with a lunch or lunch money.

Please, Only complete one application per family. The information you give will be used to determine or prove your child's eligibility for free or reduced-priced meals. This information may also be used for other state or federally funded school benefits.

Factors considered in the application process are household size and total household income. HOUSEHOLD SIZE is considered all persons, related or unrelated: Including parents, children, grandparents who live in your home and share living expense. The TOTAL HOUSEHOLD INCOME is the income each household member received last month before taxes - this includes wages, social security, pension, unemployment, welfare, child support, alimony, and any other cash income.

Foster Children - In certain cases, foster children are eligible for free and reduced-price meals regardless of your income. Please fill an application for your foster child. You can also now include Foster Children on your family application.
In accordance with California and USDA regulations Santa Cruz City Schools is required to do a yearly review of applications to make sure that only eligible children receive free or reduced price benefits. This process is called Verification and begins each October 1st. A random 3% sample of approved applications are selected each year. You will be notified via mail if your application was selected.